Making a move to a new home can be stressful for anyone, especially children who may not fully understand what's happening and why. Help kids cope with moving, and the major life changes that come along with it, with the proper preparations ahead of time. From conversations to children's books, these tips will ease the stress of transition and spark some excitement about the new journey ahead.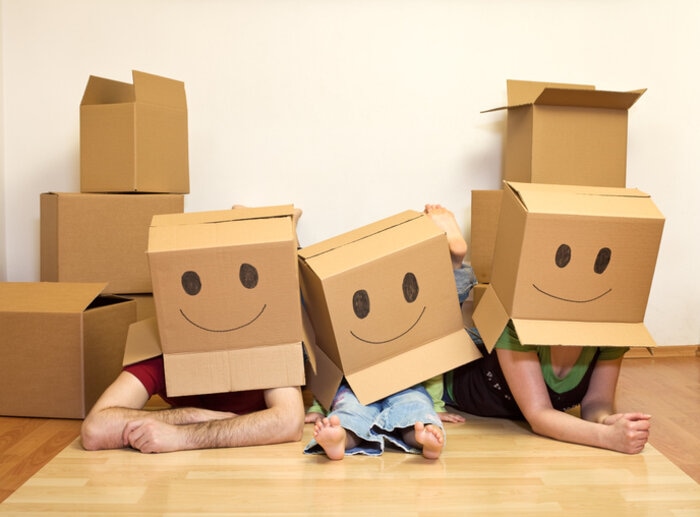 5 Conversations to Help Kids Cope with Moving
Kids prefer routine, so to learn that they're about to move to unfamiliar territory can be traumatizing news to hear. If you're moving a long distance, a change in schools and friends can be a major stressor for kids, but even a local move can stir up some anxiety. Thankfully, as a parent, there are many ways to decrease your children's fears and concerns before, during and after a move.
And it starts with a conversation.
1. Talk Often.
Instead of waiting until the last minute, prepare kids as early on as possible to give them time to get used to the idea of moving. Talk about it often to reinforce that the move is really going to happen.
2. Encourage Questions.
While kids may immediately react with fear, provide them as much information as you can about the process and about the new location.
3. Visualize.
If you're moving locally, take the kids to see the new home and do some exploration in your new community. If they're able to visualize where they're moving, they may feel some anxiety relief.
4. Get Excited.
If you're moving far away, gather as much information about the new town, house, school and community as you can to get the kids excited. Do some research and find out what activities are nearby that they can get involved in to make new friends.
5. Find Familiarity.
While keeping things as routine as possible is important, let your child help you design their new room and experience the decision-making process.
10 Children's Books to Help Kids Cope with Moving
Head over to your local library and pick up a few uplifting children's books that may alleviate some fears and explain the experience of moving to a new home. And you never know, some of these books may already be sitting on your bookshelf at home.
1. Tigger's Moving Day by Kathleen W. Zoehfeld and Robbin Cuddy
2. The Berenstain Bears' Moving Day by Stan and Jan Berenstain
3. My Very Exciting, Sorta Scary, Big Move: A Workbook for Children Moving to a New Home by Lori Attanasio Woodring
4. The Good-Pie Party by Liz Garton Scanlon and Kady MacDonald Denton
5. Big Ernie's New Home: A Story for Young Children Who Are Moving by Terese Martin
6. Moving Day! by Jess Stockham
7. A New House by Jill Wenzel and Jan Westberg
8. Moving House by Anne Civardi and Stephen Cartwright
9. I Like Where I Am by Jessica Harper
10. Alexander, Who's Not (Do You Hear Me? I Mean It!) Going to Move by Judith Viorst, Ray Cruz, and Robin Preiss Glasser
Moving On
Of course, easing the transition for babies is going to be different than how you approach the subject with teens. But no matter what, communication and finding familiarity are keys to helping kids cope with moving.
Moving with kids can stir up stress, but remember, your kids can pick up on emotions, so stay calm. Remember to breathe and let the trained packers from Tiger help you pack up and move your home. The more you prepare ahead of time, the easier and less stressful your move will be for everyone. Fill out the contact form or call us at 888-227-6642 for a free no-obligation estimate.