Preparing for a move is important for anyone who's relocating their residence. It's a time to make key decisions about what to move to your new place — and how to do it.
When it comes to your furniture, most people ask the same question: Do I need to take apart the furniture I'm moving?
The answer largely depends on what's being moved and how complicated it is to disassemble. No matter whether you do the sofa and furniture disassembly yourself, or have your movers do it for you, you want to be sure that attention is paid and great care taken when handling your pieces.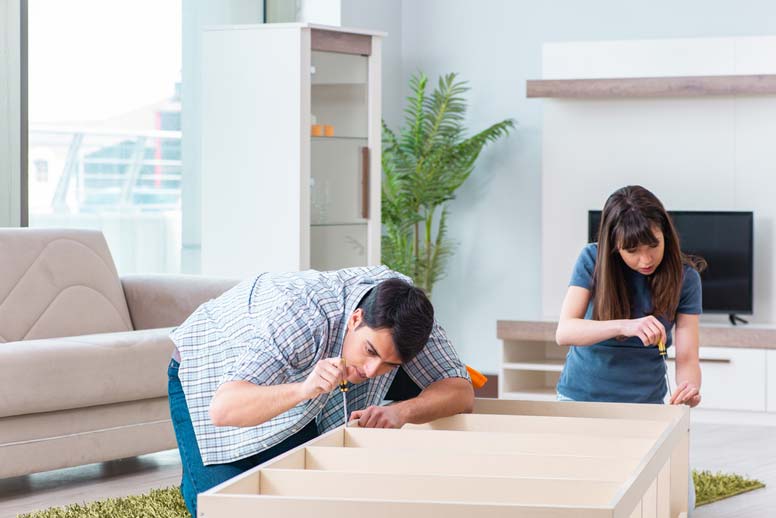 Types of Furniture Typically Disassembled
In most cases, furniture assembly and disassembly includes big pieces like beds, desks, cabinets, wall units, and exercise equipment. Disassembly makes it easier for movers to place and pack items snugly and securely in the moving truck. It also helps to save on space and ensure items are packed well.
Here's a list of common furniture items people often wonder whether or not to take apart for a move:
Beds. Bed frames are large and made up of interlocking pieces that are difficult to move, especially up and down stairs. Separating the boxspring and mattress from the frame is a good step to take before movers arrive.
Dressers. A dresser or vanity can usually be moved intact unless it has a mirror attached. In these cases, the mirror should be removed and packed separately.
Tables. Large dining room tables can be moved in one piece but it's often smart to remove the legs for better security in transit. Be sure to consider table length with doorway width and height!
Cabinets. Bookshelves and cabinets can often be moved intact, but any attached pieces or shelves should be removed beforehand.
Build-It-Yourself Items. The stress of travel, especially long distances, can put a strain on joints and screws. If you're not going to take these items apart, you should do some extra tightening and take care to make sure these items remain intact.
Sofas. Whether to disassemble a sofa for moving depends a great deal on the size of doors, stairways, and hallways in your new place. Learning how to disassemble a couch yourself, from removing the legs and arms to lifting upholstery without doing damage, can save time and trouble.
Disassembly helps reduce the size of your moving truck and the cost necessary to complete the move, so if you're really packed for space, it might be your best bet.
Determining Disassembly
Here are a few other situations in which disassembly makes sense. Certain items may be cumbersome, delicate or difficult to move unless they are broken down:
Furniture that is too bulky to fit through the doors of your apartment or house. In some cases, the size of corridors and hallways dictates whether disassembly is necessary.
Unsafe pieces. Safety issues can come into play if it is too dangerous to move a large item in one piece, especially down awkward or small staircases.
Delicate construction. If your furniture contains glass panels or delicate ornamentations, it is often better to disassemble fragile furniture pieces to reduce the risk of damage during the relocation.
What Are Some Good Tips for Do-It-Yourself Disassembly?
If you're planning to disassemble furniture for your move yourself, here are some helpful tips:
Make sure you have the right tools before you begin, including screwdrivers, wrenches, and hammers.
Have closable plastic bags handy. You'll have lots of screws, washers, and nuts during your disassembly. Use plastic bags to collect the hardware and label them properly. It'll make reassembly much smoother.
Measure your furniture pieces to help you and your movers gauge where to fit items on the truck.
Do I Have to Disassemble Furniture Myself?
No! Most movers are happy to disassemble and reassemble your furniture for a nominal additional disassembly service fee. It's definitely less stressful than googling "How to disassemble furniture?" and trying to learn furniture assembly and disassembly.
Takeaways:
Beds, dressers, tables, cabinets, vanities, and sofas are among the most common disassembled items
The sizes of doorways, staircases, and hallways, and whether or not an item is fragile, will help determine if it needs to be disassembled
Disassembling furniture yourself means planning for before and after the move
If you're not sure how to remove a mirror or how to take apart a sofa for moving, ask your mover for help. As a moving company that disassembles furniture, Tiger Moving & Storage takes great care in handling your belongings. Our skilled movers can quickly and carefully disassemble your furniture to make your moving experience a smooth one. To learn more, please contact us today for a free estimate.