Of all the tasks associated with moving, packing up the office may just be the most difficult. Whether you're moving a small business office or packing up your home office, the NJ movers and packers at Tiger have the experience and insight to get the job done right.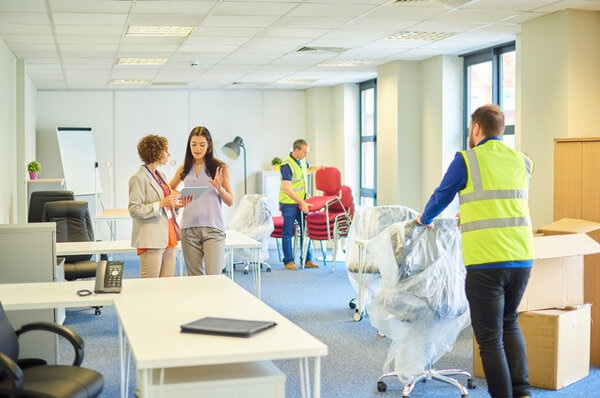 Relocating Your Office with Tiger Movers & Packers
Your office likely contains your family's or business' most important paperwork. Sorting through paper piles can be tough to overcome initially. That lingering stack of statements, legal papers, invoices, magazines, mail, photos, instruction manuals and notes seems to consistently pile up. Isn't it crazy how something so small can take so long to organize?
And, in addition to paper piles, your office is probably also home to some of your most valuable electronics that should be listed on your "High-Value Inventory" list to ensure proper coverage. Personal computers, printers, scanners and TVs must be packed properly so they arrive in the same condition as when they left your old space.
Packing Tips for the Office
From paperwork to furniture, take these few tips to help you pack up your home or small business office:
If your home is top-heavy with loose photos, it might be time to transfer some of them to albums or go digital.
Scan your book case for any books that you don't need anymore. For those you plan to take with you, pack them of the general size together in small boxes or book cartons.
Do you have plants in your office? Most movers can move plants locally, but if you're moving long-distance or crossing state lines, it might be better to find them another home.
Take note of your office furniture and electronic equipment. Do you plan to move everything to your new office space or is it time for a refresh?
Will you be bringing your artwork with you? If not, this week it's time to give away, donate or pack up and store these items.
Disassemble all furniture you plan to move to your new location. Be sure to bag all screws and other small pieces and label carefully.
Keep a paperwork moving-day box handy (and untapped). Since you'll most likely accumulate more paperwork with moving, this will help you keep it all together so you can easily reference any documents. This includes estimates from your movers & packers in NJ, insurance policies, utility contacts, school communications and any other important paperwork related to your transition.
If electronic equipment has detachable cords, like your computer, printer and monitor, pack up the cords in a ziplock bag and label it clearly.
Read More Tips on Our Two-Month Moving and Packing Series!
Week One: "Planning Ahead for your North Jersey Move"
Week Two: "Finding Movers"
Week Three: "Prepare Your Things for Moving Storage"
Week Four: "Moving and Storage Companies Who Can Help You 'Rightsize'"
Local NJ Movers & Packers To Help Move
If you're in the process of finding movers for your office, look no further. With almost a decade of experience, Tiger Moving and Storage has been one of the most reliable moving companies in the industry. Our teams are your trusted office movers & packers in New Jersey. We offer complete packing and unpacking services, commercial and residential moving as well as on-site moving storage as a secure space to store your belongings during your transition.
Give us a call at 888-227-6642 to speak with one of our movers & packers at Tiger.