When you're looking to sell your home quickly and settle down somewhere else, you want to get the most for your former space so you can get the most out of your new location. So the question is, how to raise the value of your house before putting it on the market?
A lot of folks are mystified when it comes to what makes property value increase and how they can do it themselves. There's good reason for that; the real estate industry is largely about appearances. Here, we offer some general ideas and proven ways to increase home value before you move out!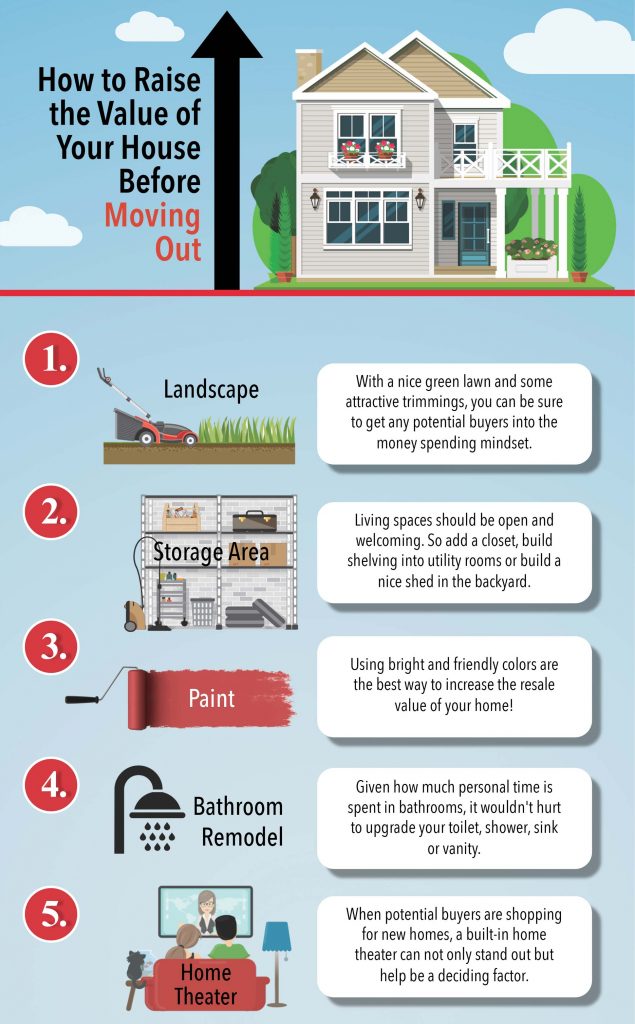 Check Home Value
The first thing you need to do is figure out how to check your house value. Don't know how to check home value? Don't worry, this is part of a real estate agent's job. So, you might be tempted to consult an appraiser, but before going to that expense, why not try to check some boxes on your own? Below is a list of fairly universal, time-tested, and expert-approved tasks you should complete to boost your home's curb appeal and increase its resale value. Doing these things will help you get off to a great start in your next residence.
10 Ways to Increase Your Home's Resale Value
Landscaping
First impressions are key. With a nice green lawn and some attractive trimmings, you can be sure to get any potential buyers into the money-spending mindset.
Storage Areas
No home stays cozy for long without plenty of space to store things. Living spaces should be open and welcoming. It helps to add a closet, build shelving into utility rooms or construct a nice shed in the backyard.
Paint
This is the thing most people think of when first considering to sell their home, but you really want to first take care of anything on the list that might damage a fresh paint job. Remember, regardless of personal taste, bright colors can be welcoming and neutral colors are timeless.
Bathroom Remodel
Bathrooms should be full of features, offer mostly hard, antiseptic surfaces, and appear easy to clean. Metal, glass and marble surfaces are great choices for a bathroom remodel.
Home Theater
When interested buyers look at houses, they are often thinking about how they will spend their leisure time. A nice built-in home theater answers that question instantly. If you have the resources to construct something like this, a home theater will more than likely make your home stand out among potential owners.
Remove Those Popcorn Ceilings
We all know and loathe them but does removing popcorn ceilings really increase home value? To keep it short, a resounding yes. Popcorn ceilings are messy, they gather dust, and they are not super great for your lungs. Replace them with a smooth alternative for a smooth sale.
Improve the Air Quality
Simply replacing an air filter on the HVAC can do wonders. Consider taking things farther by installing a built-in air filtration system. People are more aware than ever about health concerns, and air quality is an easy upgrade for your home.
Add a Deck
Remember, curb appeal is king. Adding a nice new deck is cheaper and easier than you might think and addresses a number of issues in the mind of buyers- namely how they will spend their time, how they will entertain others and how nice the yard appears.
Water Filtration
Lots of people are concerned about the quality of the water they drink, and many buy bottled water or small filters. Adding a water filtration system to your house will ensure buyers of the home's water quality.
Add a Sports Feature
For people with kids, or for those who just enjoy physical activity, adding a sports feature is a big bonus. Batting cages, bowling lanes, and basketball hoops can be low maintenance and attractive additions.
Takeaways
Learning how to raise home value is an investment that will pay off.
Utilizing the best home improvements to increase value for your home will speed sale times.
Adding curb appeal is faster and cheaper than you think.
Here at Tiger Moving and Storage, we're always ready to help out when you're planning a move. If you need extra storage space while working out your renovations, give us a call today.