You may notice by now that your move involves quite a bit of downsizing. And many require a massive emotional effort in this department dealing with possessions you were certain you would take to your grave. Finding the right moving and storage companies who can help you "rightsize" can help smooth the entire process. We've been helping families move and store their belongings for many years. Our experts have the inside scoop. You're halfway to moving day, excitement is growing. Rounding out week four of our two-month plan to prepare for a smooth moving and storage experience, you might start to feel anxious and emotional. So, this week, as you start downsizing, rather "rightsizing," remember, we are not defined by our possessions. When you begin to inventory piles, donate to charity, sell, store or simply toss, you'll find the sense of freedom and appreciation for the newfound space acquired.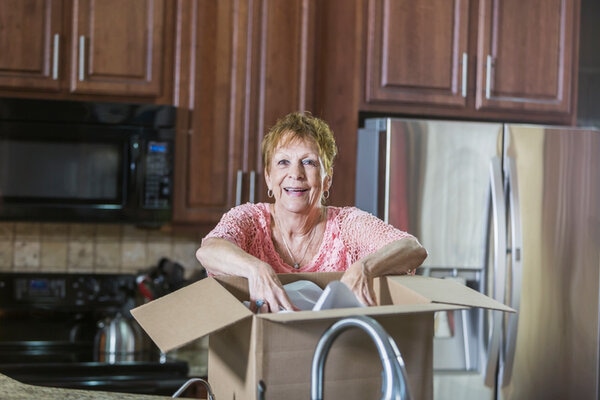 Rightsizing with the Right Moving and Storage Companies
By now, the energy in your home might start to feel "lighter." True, you probably have a growing sea of boxes floating around, but you also have a steady stream of items you're tossing or donating.
Are you starting to feel the urge to purge?
It's amazing the number of things we can accumulate over time. From an endless array of towels to cabinets full of dishes to the many mementos of a happy family, addressing these items can feel overwhelming.Go into the process prepared to part with most, but give yourself permission to keep a few items that mean most.
Before you get too toss-happy, slow down and make sure you want to get rid of the item. If you're not sure about something, don't hesitate to put it in storage. And, even if you aren't ready to put something in storage, you can still adapt a few elements of rightsizing in week four to help ease the process before moving day.
The best way to start sorting through your belongings is to ask yourself a few questions about each item:
Do I need it or do I just want it?
What is the sentimental value?
How often do I use it?
Do I have another item that can do the same thing, but might be smaller?
Rightsizing is about simplifying your space and your life, so make your decision and feel confident to stick to it.
Read More Tips on Our 2-Month Moving Series!
Week One: "Planning Ahead for your North Jersey Move"
Week Two: "Finding Movers"
Week Three: "Prepare Your Things for Moving Storage"
Find Your Trusted Moving and Storage Companies in NJ
Whether you're a young family who needs more space to meet your family's needs (upsizing), you're relocating with your job, or you're a boomer hoping to simplify in a new, smaller location, trusted moving and storage companies, like Tiger, have the experience to help you make a successful move.
With almost a decade of experience, Tiger Moving and Storage is your trusted moving, packing and storage company in New Jersey for both commercial and residential needs. We offer on-site moving storage in New Jersey, climate controlled units and a secure space to store your belongings.
Getting ready for an upcoming move and in need of storage? Give us a call at 888-227-6642 to learn more.
More moving and storage company articles worth checking out:
"How to Choose the Right Size Storage Unit"
"Packing Tips for Storing Sports Gear"
"7 Valuables You Should Keep in Climate Controlled Storage"