Tips for Moving Day
A planned move isn't just a change of locations – it's a project. For weeks, you've been packing things up, cleaning your old home, and making sure that you didn't leave anything good behind. Now, it's the day of the actual move. Even now, it's not just a matter of jumping in the car and driving to the new address. There are still a few things you should do or keep in mind in order to ensure a smooth transition.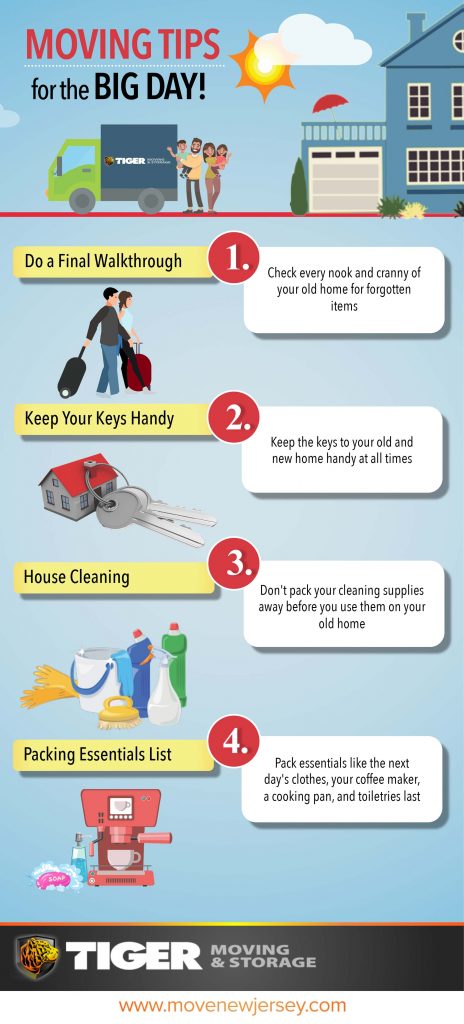 Do a Thorough Walkthrough of the Old House
As you walk through, open all of the cabinets, drawers, closets, and other potential storage locations. Then, look inside them all. This will help to ensure that you haven't left anything behind. Also be sure to check bathroom shelves, windowsills, and underneath any furniture that you're leaving behind. Even if you're using one of the best full service moving companies, only you know all of the places you might have put things, so be sure to do this check yourself.
Keep the New and Old Keys Handy at All Times
The easiest way to do this is to put them all on your main keychain. If the keys are too similar to tell them apart at a glance, color-code them with rubber rings over the key heads or use some other means of identification. Having both keys handy will ensure that you can get into either home if the need arises.
If You're Doing the Packing, Leave the Cleaning Supplies Out Until You've Used Them
Cleaning your old home is easiest when there's nothing left in it besides the tools for doing that clean-up. Once everything else is gone, thoroughly clean everything. If you're leaving an apartment, this will help you get your security deposit back; if you're moving out of a house, cleaning it will make it much easier to sell later.

The cleaning supplies you'll want depend on the specifics of your old home, but you can expect to at least need cleaning solution, a bucket, mop, vacuum cleaner, and paper towels or cleaning rags. Keep these unboxed in your old home.