Taking care of your aging parents can be a rewarding, yet challenging task at the same time. And it becomes particularly difficult when the time comes for them to move. Here are a few tips to ensure a smooth transition and help ease the stress on everyone involved.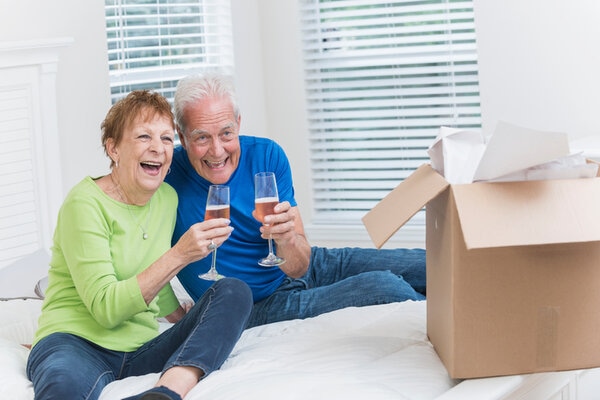 Parents Relocating? 6 Tips to Ensure a Smooth Transition
1. Focus on Communication First
We get it, your parents will most likely balk at the thought of relocating, not to mention downsizing. Likely, they've been in their current home for many years, even decades. It's where some of their most important moments have taken place and no doubt, they feel a strong, emotional connection to the house. This is why tip number one is so important: communication. Be sensitive as you broach the subject of moving and be ready to listen to their side of things.
Once you have them on board, call on all family members for support to help prepare for moving day.
2. Get Familiar with their New Home
Helping your parents relocate is a big job, but it'll be easier when you know where they're moving to so you know how much stuff the new location can hold (and how much you'll need to purge or store). Tour the new home or apartment and measure the dimensions of each room. If you're unable to physically visit the new home, communicate with the facility to gather key information.
3. Take it Slow, But Stick to a Plan
At any age, packing is a massive job…it's especially overwhelming for older homeowners who have accumulated so much stuff over the years. Respect their decisions about what stays and what goes (and what goes in storage).
More than likely, they're going to need some packing and unpacking assistance. Your best bet is to work with them on creating a checklist and timeline so you don't miss out on any important details or get backed up. And be sure to allow some time for trips down memory lane.
4. Sort Through Stuff
At first, your parents are probably going to want to keep it all. But as time goes on, they may be more open to donating or selling some items. You will probably also be able to convince them to put things into a storage unit (if it won't fit in their new home). A climate-controlled storage unit is the best option for storing old photographs, sports equipment, antiques and countless other valuables that your parents can't bear to part with. This is exactly why it's so important to start the process as early as possible.
5. Say Goodbye (Again)
After the move, your parents will probably still end up with too much stuff in their new home. But once they're settled into their new place, they won't have as much anxiety leaving their home which will make it easier to say goodbye and store those nonessential items.
6. Get Packing and Unpacking Assistance
Once everything is sorted and labeled, call on the moving professionals for some extra packing and unpacking assistance. The professional movers at Tiger Moving and Storage will provide you and your parents with the support you need from the beginning through the entire move process and even the unpacking. Let our experts help your parents feel more confident during their transition knowing that their prized possessions will be packed, moved and stored safely.
Fill out the contact form or call us at 888-227-6642 for a free no-obligation estimate.