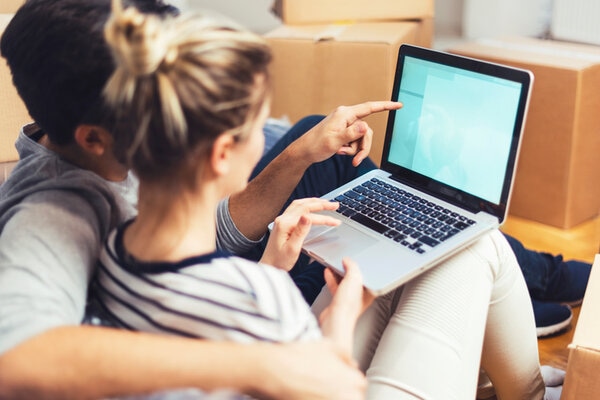 Mail Call: Forward Paperwork 6 Weeks Before Moving
Week three, arrange to have mail forwarded to your new home address. The post office makes it easy to file a change-of-address form online or you can pick up a form at your local post office. Either way, this is the week to check off this task so it doesn't fall through the cracks. It would be worth letting your mail carrier know that you'll be leaving soon as well.
Make a list of the service providers, institutions and other companies you do business with such as your accountant, attorney, bank, cable provider, credit cards, DMV, doctors, insurance agents, IRS, phone providers, utilities, veterinarian, voter registration office, etc. Set aside time this week to connect with everyone on your list either by letter, email or phone and set up a file for confirmations. This will help you to avoid feeling like you're flying by the seat of your pants and wondering who you contacted (and who you didn't).
Moving Storage: What Stays? What Goes?
Week three is also the perfect time to take inventory of what stays and what goes…and everything in between, which you'll put safely in moving storage.
Whether you're moving across town or across the country, if you've moved before, you know how much of a challenge packing can be. Incorporating a moving storage until into your move plan will allow you to place many (or even all) of your belongings before your big day. As you start cleaning out your garage, basement and closets, it's a great way to stay organized and kill the clutter.
It's time to determine how much storage you'll need. You'll want a unit large enough to fit all your belongings, but you won't need to overpay for something that's too big, either. Start by taking inventory. Anything you can live without during the next six weeks should be packed up in advance and stored in your storage unit. Out-of-season clothes, basement boxes, off-season sports gear all fall into that category.
Also, consider a climate-controlled moving storage unit. If you plan to store electronics, photos or artwork, it pays to protect them against the elements like temperature changes and humidity.
Based on that list, estimate the size of moving storage space you'll need. For example, if you're packing a 3-4 bedroom home, a good size unit would be 10-by-20 foot. If you're packing for a single-bedroom home, a 10-by-10 foot unit should work fine. It's always best to contact the moving storage representative to help you determine a more accurate size.
Read More Tips on Our 2-Month Moving Series!
Week One: "Planning Ahead for your North Jersey Move"
Week Two: "Finding Movers"
Trust in the Local Moving and Storage Experts at Tiger
With almost a decade of experience, Tiger Moving and Storage is your trusted moving, packing and storage company in New Jersey for both commercial and residential needs. With secure on-site moving storage in New Jersey, we
Getting ready for an upcoming move? Give us a call at 888-227-6642 to learn more about our moving and storage services.
More moving storage articles worth checking out:
"How to Choose the Right Size Storage Unit"
"Packing Tips for Storing Sports Gear"
"7 Valuables You Should Keep in Climate Controlled Storage"