Your home is your comfort zone, and moving takes you out of it – at least temporarily. While organization and preparation are important, the last week before you move is the busiest time in the life cycle of a move. During that last week, you've committed. You're no longer trying to make your current home livable – with packed boxes & clutter everywhere and most of your most frequently-used things packed up – so the final week before the move can be pretty jarring.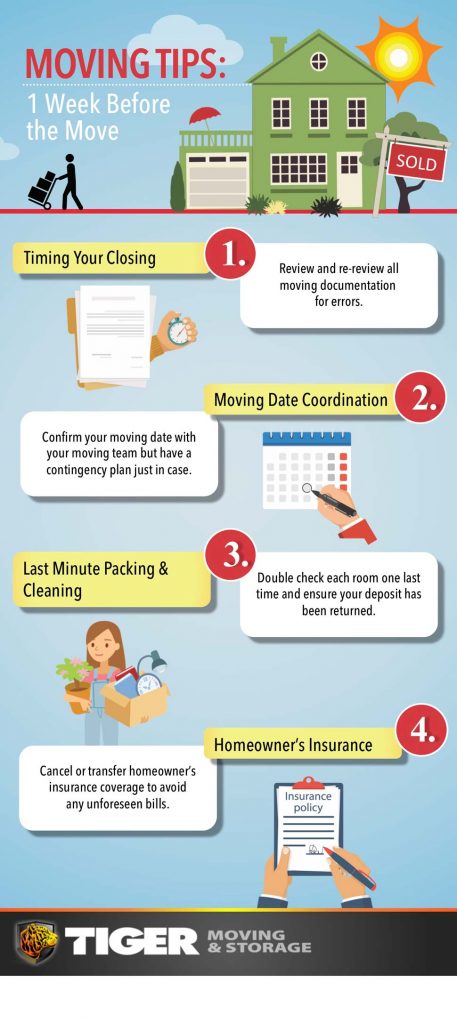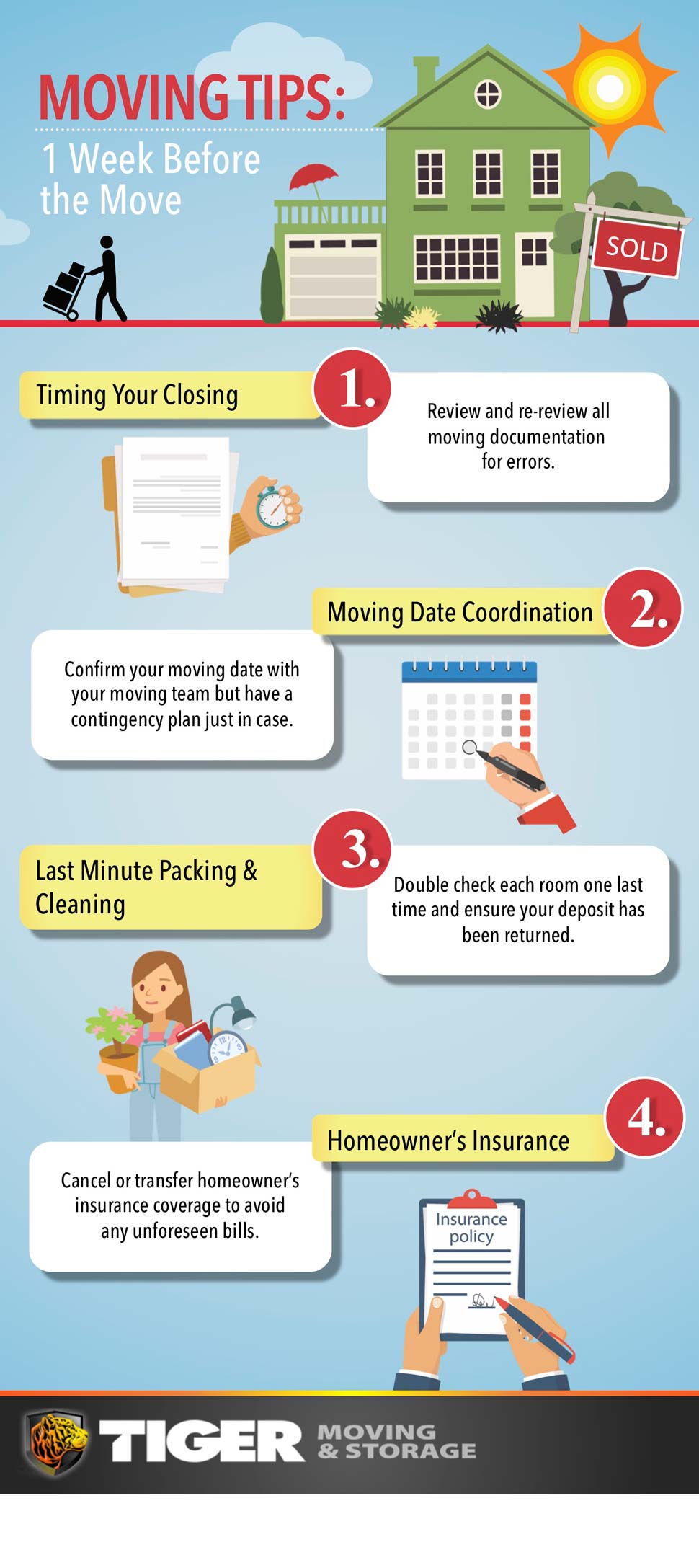 Here's our infographic with some valuable tips for packing and moving that you should add to your moving checklist. They'll help ensure you don't miss a beat during your final transition to your new home.
Four Key Tips for Moving in the Last Week
1. Timing Your Closing
Getting the timing right on your closing is easily the most complex potential issue during the final phase of your move. Problems that delay closing can be hard to fix- especially at the last minute, considering how many things can go wrong in the process of buying and/or selling a house. So, here are a few tips on moving when your closing date is in question.
Documentation errors: Small mistakes like spelling errors can cause big trouble. Review and re-review everything. Carefully checking all documentation from the beginning of the process can save time in the long run.
Mortgage delays & late stage requests: Mortgages can be delayed for a number of reasons that are beyond your control. Check in with everyone early in the process to make sure you know what is required.
Cash flow: With large amounts of money, a bug in the bank's system or a delayed money transfer can throw a monkey wrench into your schedule. To avoid this, provide payment in the form of a certified check or cashier's check.
Unclear title: It could be that a contractor didn't get paid or property taxes are in arrears or a lawsuit is pending on the previous owners. Whatever it is, you want to know up front. Make sure to read the title report thoroughly. If there is anything you don't understand in it, obtain guidance.
Final walk-through woes: You go in for your final check-up on your new home and find that the painters ruined the carpet or raccoons have moved into the kitchen because contractors left a window open. You could negotiate for a discount and handle it yourself, or put off your move. Check in early and hopefully, any such issues can be dealt with before closing day.
2 Moving Date Coordination
Confirm your moving date with Tiger Moving and Storage. Having the moving crew appear when you need them is important when relocating. So, it's a good idea to check in with us to see when our team of movers is scheduled to arrive. Calling early is best if you need to make a schedule change. Have a contingency plan in case you end up without a place to call your own for a day or two.
3 Last Minute Cleaning & Packing Tips for Moving
If you've decided to pack yourself, clean each room thoroughly. Don't pack vacuums or other cleaning supplies until after everything has been removed from the house or office. To ensure a return on your deposit, it's important to do a professional grade cleaning. Renting cleaning equipment might be a shrewd move.
4 Homeowner's Insurance
One of the most important home moving tips is to cancel or transfer homeowner's insurance coverage. To avoid any bills on coverage that no longer serves you, be sure to cancel your policy for your previous home.
Takeaways
Make sure you're on the same page with your Realtor to coordinate closing time well before moving day.
Keep your moving company in the know should any unexpected delays take place.
Cleaning yourself means going the extra mile to avoid losing your security deposit.
Don't forget to transfer or cancel your homeowner's insurance coverage.
As one of the top moving companies in NJ, we at Tiger Moving & Storage know how complicated moving can be. Get in touch today to learn more last minute moving tips and how Tiger will make your move as easy as possible.