With the change of seasons and warmer weather on the horizon, many of us get the urge to do some spring cleaning. This means it's time to store all your winter clothes and clear out the mudroom full of winter gear to make room for summer. But before you pack up the skis and box up the boots, let's take a look at the best way to store your winter supplies and keep everything organized with extra storage space during the off-season.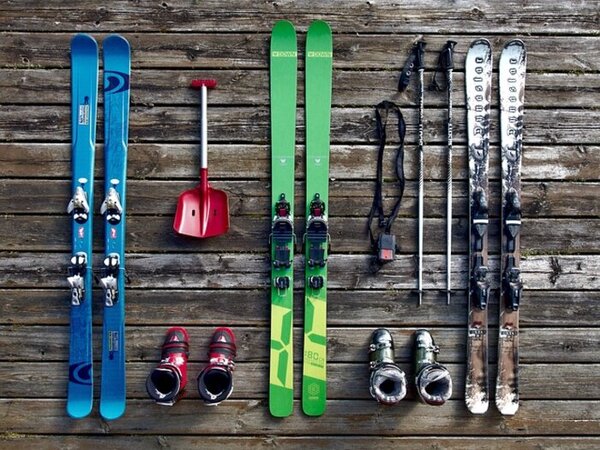 Storing Winter Gear During the Off-Season
Sure, it seems simple enough. At the end of winter, just toss your skis or snowboard and boots in the garage and forget about them until next year rolls around. Not so fast… Whether you're a recreational snow bunny or someone who hits the slopes every weekend, you're going to want to protect your investment.
Step 1. Wash & Wax
The condition in which you store you winter equipment can be just as important as where you store them. That means you need to wash away any dirt on with a mild detergent and consider getting an end-of-season tune-up. Since ski shops are typically empty this time of year, consider bringing them in to get tuned. After everything is cleaned and tuned, wax the bases to keep them in top shape over the next few months.
Remember to clean your bindings and boots as well – more than likely, they've accumulated mud from the parking lots this past spring. Pull out boot liners so they dry out completely and then wipe down the shells with a mild detergent and warm water. Also, wash your coats and apparel to remove dirt and oils that can destroy waterproofing and breathability.
Step 2. Find Extra Storage Space
Climate controlled storage space can make all the difference when storing skis, boards, boots and other winter gear. Since excessive heat can damage the adhesives in skis and boards, it's critical to avoid hot garages and attics.
Before taking your winter gear to storage, let everything dry for longer than you think. I know we sound like a broken record, but any moisture left over can decrease the life of your equipment and materials, so make sure it's completely dry before you put them in storage.
Consider storing boots in a bag to protect them from dust, critters and spiders. Just make sure you they're clasped and locked on the loosest setting or they could lose their shape.
Step 3. Swap it Out
Make a seamless transition from season to season by arranging extra storage space during the off-seasons and your gear will stay in great shape for years to come.
As you pack up your winter sports items to put in storage, remember to grab all your summer beach-ready gear while you're there! Make way for mountain bikes, beach umbrellas, lounge chairs and boogie boards; summer will be here before we know it.
Tiger Moving & Storage
As we say adios to another erratic winter and you need some extra storage space for all your winter gear, Tiger Moving and Storage is your answer. The expert team at Tiger can help you with all your seasonal storage needs. Contact us today to for more information at 888-227-6642.