Right up there with buying a new car, medical bills, and making a downpayment on a house, moving to New Jersey is one of the most expensive things you can do. The average cost to move to New Jersey is about $4,800 for a 1000 mile relocation to a 2 to 3 bedroom home with an average of around 7,000 pounds of personal belongings. If you're making a local move, you can cut that down to about $1,200 to $1,500.
You're probably thinking you've moved a few times, and it wasn't that expensive. Keep in mind the dollar amounts we mentioned are averages. You should also bear in mind that the more you own, the more expensive your move will be. People tend to accumulate belongings as they get older. So your previous experience with moving might be different this time.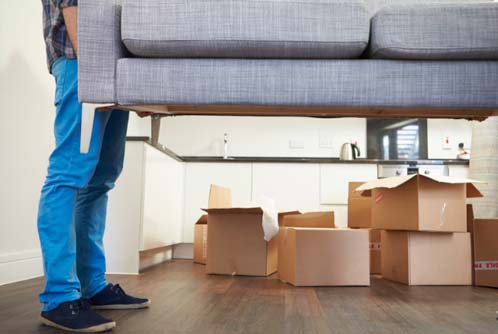 Travel Costs
To come up with an accurate moving cost estimate the first thing to consider is distance. Travel costs can pile up pretty fast over long distances. You should account for fuel use and labor expenses while en route.
Moving Date
When you move is also a major consideration. About 40 million people move to a new home every year and the majority of them do it during the summer or on a weekend. The reasons are obvious. You don't want your furniture rained on, and most people move when they are off work. Of course, this means demand for moving services are higher- so you're going to pay more.
The Size of Your Move
As stated, the average total move weight is about 7,000 pounds. If you're serious about keeping your expenses low, you might consider selling or giving away anything you don't really need. The more belongings you transport to your new home, the larger your rental truck will have to be. Also, more fees will pile up more, since more stuff takes longer to move.
Storage
If you've got more than the average 7,000 move weight, you might want to have your moving company store some of your things for you. In some instances this can be less expensive in the short term, depending on the amount you're storing. But in time, it will increase the overall cost of your move.
Add-On Services
You can take a big chunk out of your moving bills by doing as much of the work as you can. Paying a moving company to disassemble and reassemble furniture, professional packing services, and the like can add up quick. Of course, you can expect a level of professionalism that you might not get if you're handling everything yourself, especially if you choose Tiger Moving and Storage as your professional moving company!
Supplies
To do the job right, you're going to need packing supplies like boxes, packing material, tape. These are far from the most expensive items on your expense list, but you would be remiss to leave it out.
Accommodations
If you're traveling 1000 miles or more, there's a good chance you'll want to stay at a hotel somewhere along your route. That will add a good $200 to $500 to your overall moving expenses.
Liability and Valuation Insurance
Most moving companies will require you to buy some sort of liability coverage. Your options will probably look like Full or Basic Value Protection. This may be exasperating, but if anything goes wrong- you'll be glad you had the protection.
Takeaways
For a quick and dirty move estimate to New Jersey, check out this handy moving calculator, and consider the following;
Distance traveled
Weight of your belongings
The time of year
Labor costs
Additional services, like packing or insurance
If you're looking to save as much as possible on your move, hire a moving company you can trust. Here at Tiger Moving & Storage, we'll work with you to keep your move within your budget. Get in touch today to learn more.