Moving Companies in Lodi, NJ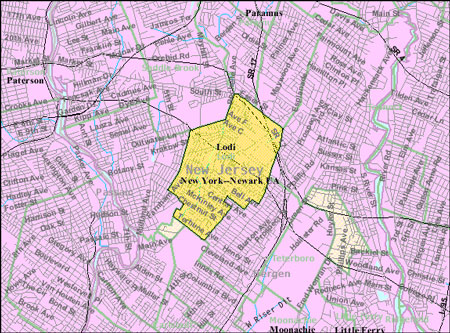 Initially named after the Italian city Lodi, Lombardy, Lodi has been a borough in NJ since 1894. Home to 24,000 residents, Lodi is a growing city that has a solid education system and extensive roadways. Some of the top things to do in Lodi, NJ include going to the Saddle River County Park (five separate park areas combined by walking paths), Garret Mountain Reservation, and Wildlife Conservation and Education Center.
The New York radio station WABC transmits from Lodi, and Lodi has also been the home of quite a few scenes in the hit HBO show "The Sopranos." As a large town, people are constantly moving in and out, and the need for movers Lodi, NJ is constantly growing.
Are You Looking for Moving Companies in Lodi, NJ?
If you're looking for moving and storage service in Lodi, NJ, look no further than the services of Tiger Moving & Storage. Tiger Moving & Storage can help you pack and move your items, and store them either short-term or long-term. Lodi has grown 0.7% since 2000, with people moving into Lodi from all directions.
Storage companies in Lodi, NJ can help you keep your items safe for the duration of your move. Whether you're looking for a home to buy, applying for rental properties, or moving long distance, a storage company will be able to protect your items.
When you look for moving companies, you want a company that has a strong reputation, reviews, and testimonials. Your moving company needs to be trustworthy and on-time, if you're going to trust them with your most prized possessions.
Tiger Moving & Storage was founded with the goal of providing excellent services and excellent customer support. And it's able to deliver more than just moving: the expert professionals at Tiger are able to do everything from packing your items to storing them while you complete your move.
Do you have fragile items, such as antiques, furniture, paintings, or electronics? Not a problem. Whether you're moving in or out of Lodi, NJ, Tiger can help.
Lodi has been steadily growing for the last 20 years, with growth of 0.7% in the past ten years.
Tiger Moving and Storage can store your items in temperature-controlled, easily accessible facilities while you move. We can also transport and set up all your items.
If you need reliable moving and storage services in Lodi, you can call Tiger Moving & Storage.
Tiger Moving & Storage provides complete moving and storage companies. Whether you're going a short distance or long distance, or need short-term or long-term storage, Tiger can help. Contact us today for a quote.